789 Rocky Hill Road
Plymouth, MA 02360
Tel/Fax: 508-224-3709
E-mail:
jmkarbott@aol.com
John M. Karbott is a boatbuilder that specializes in the custom construction and repair of fine wooden boats. His knowledge of the sea begins with over thirty years of commercial lobster fishing in wonderful wooden boats. His boatbuilding career is an extension of his commercial boatwork in Plymouth, MA where his spacious workshop can accommodate sizable craft requiring a substantial rebuild. Over the past several years, he has built some classic rowing and sailing designs as well as work skiffs and commercial fishing boats.

Commercial fishing has given John a salty eye and penchant for solid construction. In past years he has built many beautiful skiffs, traditional dories, workboats and small pleasure craft in both traditional plank on frame and modem glued lapstrake construction. John builds solid boats with beautiful lines that require modest maintenance.

Rather than offering just one or two particular boats, John custom builds what you want. He has experience in constructing many boats from simple flat bottom skiffs to more elaborate and elegant lapstrake and carvel planked rowing and sailing craft, using both traditional and modern methods and materials. You may provide your own plans, or select from the many designs available to John.

Not surprising is John's affinity for the traditional Maine lobster boat hull, having owned and operated several of these fine boats during his past fishing career. He has repaired and rebuilt many of these beautiful hulls, both built down and skeg designs.

John also teaches at the WoodenBoat School in Brooklin, Maine and at several of their offsite locations along the east coast. He also is a member of the Massachusetts Marine Trades Association.
---
Currently Under Construction: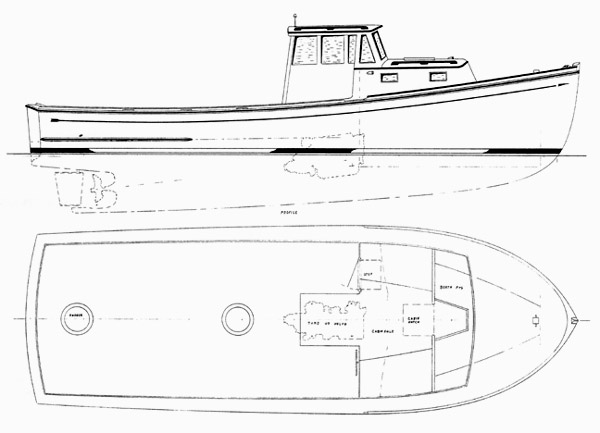 Now under construction - A 32' Carroll Lowell design
---

For Sale: a new 18' Alton Wallace "Westpointer" skiff ready for your choice of options. Epoxy strip planked, oak stem/keel, transom, and frames. All fastenings are copper or silicon bronze. Mahogany rub rails and coamings. Center console. Email for more information.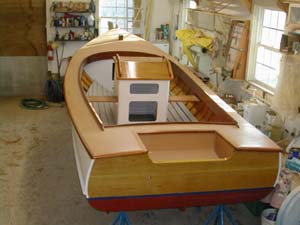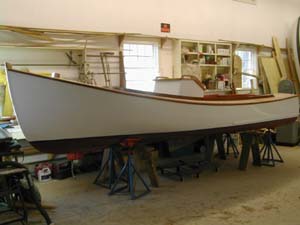 ---

For Sale: A Joel White "Pooduck Skiff" rowing/sailing dinghy with swing centerboard and approximately 65 or 79 square feet of sail. Epoxy glued lapstrake construction. This boat is very similar to Joel White's Shellback dinghy, but is a bit larger all around. Email for more information.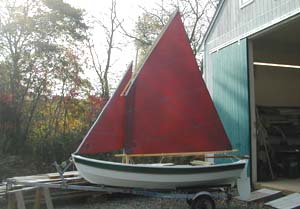 ---
Other John Karbott-built boats: